THE GAINS GANG VISION
Joining the Gains Gang Community is making a commitment to become the best version of yourself. Not only levelling up individually, but using your knowledge and skills to help add value to those around you. The Gains Gang is about giving back without looking to receive anything in return. Being the best version of yourself, and reciprocating that continual growth by helping others achieve their goals. After all, we rise by lifting others.
OUR MISSION
A portion of proceeds from every Gains Gang product sold will be donated to GTA-based youth who have demonstrated the ability to excel in a particular sport, and need financial assistance to continue pursuing excellence.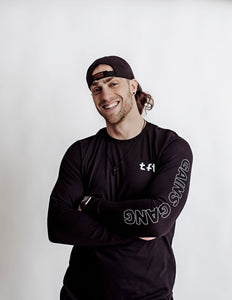 Founder - Steve Mccollum
Born and raised in Brampton, Ontario Steve was always passionate about sports and training. Growing up as one of six children in a single parent household, playing high level sports wasn't a possibility without outside support. This inspired the vision of the Gains Gang. Growing up playing hockey, Steve eventually found a passion for football and earned himself a scholarship to Bishop's University. A strong work ethic combined with the passion to inspire and lead others led him to be named a team captain.
When asked how he got into health and fitness Steve responded "I was always a leader, I loved to help others be the best versions of themselves. In College I would help the young guys coming up under me with technique in the weight room and nutrition". He originally started his Fitness Journey as The Football Trainer on Instagram in 2013 while playing Football at Bishop's: "I just wanted to help young football players train the way I wish someone had taught me to". After realizing the severity of his concussion injuries sustained from football, Steve was heart broken to walk away from his childhood dreams of playing professionally. "I decided if I could not achieve my dream, I would do everything I could to help others achieve theirs". TFT Fitness was born in 2014.